05.09.2013, Oststeinbek (Germany) – Japanese manufacturer Scythe, famous for its innovative and market leading cooling concepts and accessories, introduces a new edition of the popular Mugen 4 CPU cooler. In the past, Mugen series was modified in cooperation with the experts from the Ger-man Computer Magazine "PC Games Hardware". Latest Scythe Mugen 4 CPU cooler was tested by the professional editors and received some optimizations for silent operation.
In result of this cooperation, the improved version by the name "Mugen 4 PCGH Edition" has been created. Main heatsink was considered great and was not modified. Scythe newly developed the T-M.A.P.S. (Threedimensional Multiple Airflow Pass-Through Structure) fin structure for Mugen 4, which increases the airflow inside the cooling heatsink. Furthermore, Mugen 4 PCGH Edition is highly fine tuned for performance with ultra low noise.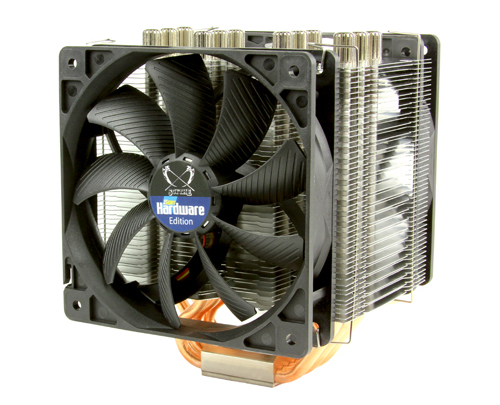 The main focus was on improving of airflow and performance in regards to the supplied 120 mm Glide Stream axial-fan. PC Games Hardware editors chose a much slower spinning model of the 120 mm Glide Steam, which rotates constantly at 800 RPM (SY1225HB12L). In addition, a second Glide Stream 120 mm model with 800 RPM is supplied with the "Mugen 4 PCGH Edition", offer-ing a Push-Pull-Setup out of the box! Hence results in a more silent operation at 12,5 dBA, where each of the fans moves 43,5 CFM through the heatsink.
"Hyper Precision Mounting System" (H.P.M.S.)has been used for the Mugen 4 PCGH Edition as well. Hence makes the mounting procedure much easier and faster than before. Compatibility to the AMD sockets AM2, AM2+, AM3, AM3+, FM1 and FM2 as well as the Intel sockets LGA 775, 1155, 1156, 1366, 2011andthenew socket LGA 1150 ("Haswell") is assured.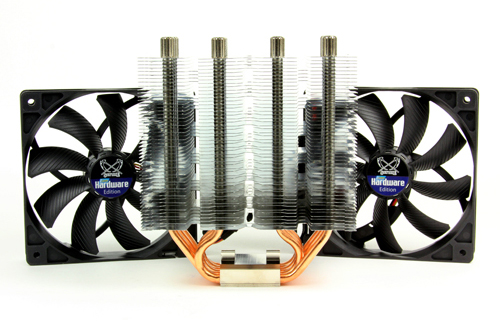 New Scythe Mugen 4 PCGH Edition (Model-No. SCMG-4PCGH) is available on the market as of today. Although many improvements have been applied, the price stays the same at 42,00 EUR.
**********************************************
Scythe Mugen 4 PCGH Edition – Product Page
Scythe Mugen 4 PCGH Edition – Data Sheet
Scythe Mugen 4 PCGH Edition – high-resolution Images
**********************************************
About Scythe
Scythe is one of the world's leading manufacturers of CPU coolers, graphic card coolers, fans, fan controllers, power supplies, cases and other PC accessories. Operating since November 2002, is headquartered in Tokyo (Japan) and has offices in Oststeinbek (Germany) and Taipei (Taiwan).