28.11.2013, Oststeinbek (Germany) – With the announcement of the new Kotetsu CPU Cooler, Japanese cooling expert Scythe is going forth to offer a 120 mm tower model with an aggressive pricing and great cost/performance ratio. Progressive development on field of thermal design and improvement of present technology, allowed Scythe to create a low-weight, yet very powerful tower-type CPU Cooler! Easy and fast mounting procedure is possible thanks to the recently introduced "Hyper Precision Mounting System".

By announcing the Kotetsu CPU Cooler, Scythe is able to prove that great performance does not necessarily require the heatsink to be very heavy. Kotetsu is equipped with four high-quality six millimeter copper heatpipes, an optimized aluminum fin-structure and an all-copper base-plate, yet puts up a weight of merely 480 grams. Fast dissipation of heat from the fins is managed by the pre-mounted 120 mm Glide Steam axial fan, which rotates in a range between 400 and 1.400 rpm thanks to the PWM-support. The noise level varies between inaudible 5,3 dBa to still very silent 28,0 dBA. Although being very silent, supplied Glide Stream axial fan is able to move from 63,49 to 165,10 cubic meter per hour, respectively 20,7 to 79,0 cubic feet per minute. Similar to other Scythe CPU Cooler models, Kotetsu can also be equipped with an addition case fan, to create a Push-Pull constellation.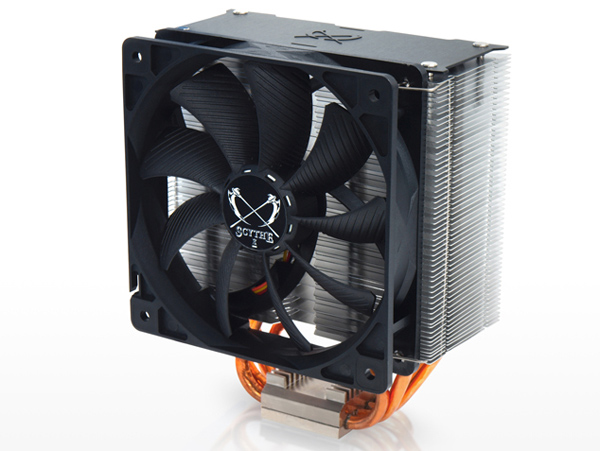 Another great feature of the new Kotetsu CPU Cooler is its compact size of 130 x 58 x 160 mm (W x H x D). Hence allows it to be used even for gaming systems based on Mini-ATX and Micro-ATX form-factor. Such systems have usually high restriction when it comes to the height and size of the built-in components. Scythe utilized the "H.P.M.S." mounting system in addition, to assure an easy and fast mounting procedure.
Compatibility to a big variety of sockets is yet another specialty of Scythe. The Kotetsu CPU Cooler supports the Intel® sockets LGA1150, LGA775, LGA1155, LGA1156 and LGA1366 as well as AMD® sockets AM2, AM2+, AM3, AM3+, FM1 and FM2. All required mounting clips for the screw-based mounting system, alongside one wrench and thermal grease, are supplied as well.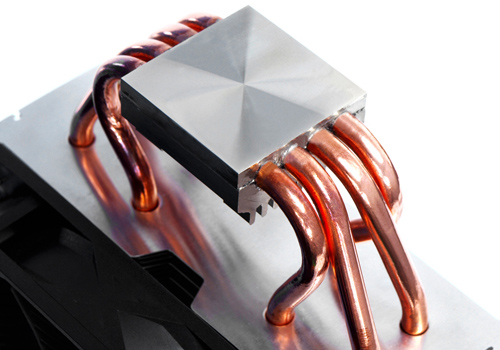 Scythe Kotetsu CPU Cooler (Model no. SCKTT-1000) is available as of today, whereas the suggested retail price is 28,00 EUR (excl. Taxes).
**********************************************
Scythe Kotetsu – Product Page
Scythe Kotetsu – Data Sheet
Scythe Kotetsu – high-resolution Images
**********************************************
About Scythe
Scythe is one of the world's leading manufacturers of CPU coolers, graphic card coolers, fans, fan controllers, power supplies, cases and other PC accessories. Operating since November 2002, is headquartered in Tokyo (Japan) and has offices in Oststeinbek (Germany) and Taipei (Taiwan).