Scythe, the well known Japanese Specialist for high quality Cooling-Components and reliable PC-Accessories, announces today the successor of the famous TOP-Flow-CPU-Cooler Scythe Kabuto, which comes with various improvements. One of the Highlights of the new Cooler is the included fan.

Scythe Kabuto 2 CPU-Cooler comes with perfectly matching Scythe Glide Stream 120 Millimeter fan. It is part of the recently announced new series of fans. Scythe Glide Stream fans are equipped with a redesigned small center hub as well as fan blades. Hence allows the reduction of air resistance and therefore achieving lower operating noise. Furthermore all mounting holes are equipped with special rubber-pads in order to reduce transfer of fan vibrations to the CPU Cooler itself or the whole PC Chassis. To fit into most of the on-market PC Chassis Scythe Kabuto 2 is being kept compact with the dimensions 132 x 140 x 130 millimeters.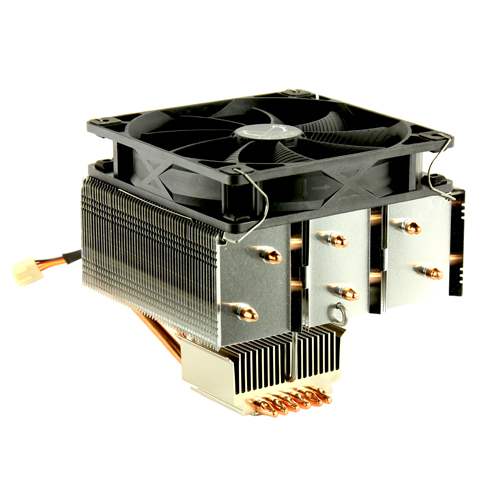 New "Reinforcement Bar" assure the stability of the Scythe Kabuto 2 by connecting the coolers base with the fin structure. Similar to the first version, Kabuto 2 is able to supply additional airflow to cool the Chipset, memory, VRMs and other components which are located around the CPU Socket. Furthermore no compromise in quality has been made, providing a nickel-plated all-copper base plate and a total of six copper-heatpipes to assure efficient heat transfer to the aluminum fins.
In addition, the Scythe Kabuto 2 is equipped with the "New Generation Clip System" (N.G.C.S.) which was introduced with the Scythe Katana 4 and was praised by many users. N.G.C.S. makes the installation procedure easier and faster, yet not compromising stability and safety aspects.
List of compatible CPU Sockets features many current and a few older sockets, from both AMD® and Intel®. It includes the Intel® Sockets LGA 2011, LGA1155, LGA1156, LGA775 and LGA1366 as well as the AMD® Sockets AM2, AM2+, AM3, AM3+ and FM1.
Scythe Kabuto 2 with the Model-No. SCKBT-2000 is available as of today on the European market with a MSRP of 34,00 € (VAT/Taxes not included).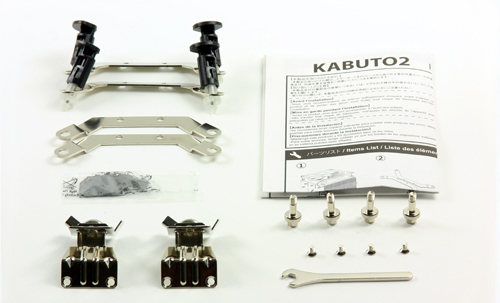 **********************************************
Kabuto 2 Product Page
Kabuto 2 Data Sheet
Kabuto 2 high resolution Pictures
Kabuto 2 Product Video
**********************************************
About Scythe
Scythe is one of the world's leading manufacturers of CPU coolers, graphic card coolers, fans, fan controllers, power supplies, cases and other PC accessories. Operating since November 2002, is headquartered in Tokyo (Japan) and has offices in Oststeinbek (Germany), Los Angeles (USA) and Taipei (Taiwan).