30.07.2013, Oststeinbek (Deutschland) – Japanese CPU cooler and case fan expert Scythe proudly presents its new top-notch Grand Flex 120 mm fan series. These new axial fans surprise with the aggressive design and are set to be the successor of the incredibly successful S-FLEX series, taking it to the next level in terms of design and performance.

"Sealed Precision FDB" was newly developed from scratch as the core for its Grand Flex 120 mm series. This bearing is based on the "Fluid Dynamic Bearing" technology that has served Scythe well for several popular high-end series in the past and is now being used as a very solid and reliable foundation for the new design. Scythe's Fluid Dynamic Bearing utilizes lubricantoil between the shaft and the bearing, resulting in excellent lubrication and silent operation. The used high-grade lubricant oil can withstand high temperatures of up to 250 degree Celsius, and are additionally of special interest for industrial use. Grand Flex 120 case fans are made for long time silent operation and are rated with MTTF (Mean Time To Failure) of 120.000 hours (at 25 degree Celsius).
Another highlight is the completely new design of the 9 blades of the Grand Flex 120 and Grand Flex 120 PWM models. Each fan blade is made especially robust and is equipped with an indentation close to the center-hub. Hence allows much more focused and more concentrated airflow towards the cooling area, resulting in better performance when used with cooler heatsinks. In order to reduce the vibration transferred to PC chassis, a set of vibration dampers is supplied with each Grand Flex 120 case fan. In addition, all Grand Flex 120 case fans come with a 500 mm long cable, which is sleeved – allowing it to be conveniently used even in big tower chassis.
To match every users taste, Scythe Grand Flex 120 axial fans are available in five different variations. For users seeking constant airflow at fixed speed, total of four models are available, including 800 rpm, 1.200 rpm, 1.600 rpm and 2.000 rpm. Users seeking a fan with PWM support, can rely on the Grand Flex 120 PWM model, which offers a very wide fan speed range from 600 up to 2.400 rpm.
Overview of all models with specifications:
SM1225GF12SL: 30,5 CFM at 800 rpm and 18,0 dbA
 SM1225GF12L: 45,8 CFM at1.200 rpm and 23,5 dbA
SM1225GF12M: 61,1 CFM at1.600 rpm and 28,5 dbA
SM1225GF12H: 76,6 CFM at2.000 rpm and 34,5 dbA
SM1225GF12SH-P: 24,2 to 96,8 CFM at 600 to 2.400 rpm and 13,5 ~ 39,5 dBA, PWM-Technology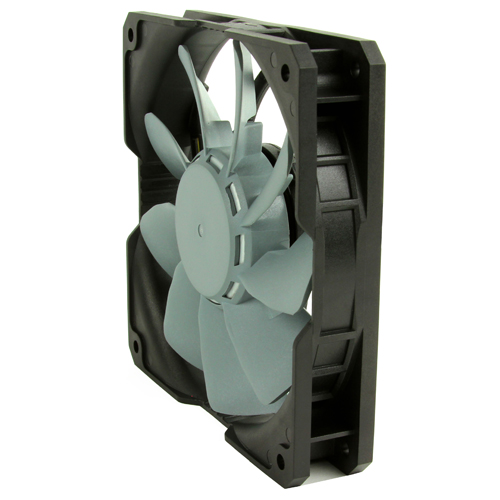 All Scythe Grand Flex 120 models are available as of today on the market. Manufacturer's suggested retail price for models with fixed fan speed is set at 10,00 EUR, and the PWM model (SM1225GF12SH-P) at 12,00 EUR.
**********************************************
Scythe Grand Flex 120 – Product Page
Scythe Grand Flex 120 PWM – Product Page
Scythe Grand Flex 120 – Data Sheet
Scythe Grand Flex 120 PWM – Data Sheet
Scythe Grand Flex 120 – hich resolution Pictures
Scythe Grand Flex 120 – Product Video
**********************************************
About Scythe
Scythe is one of the world's leading manufacturers of CPU coolers, graphic card coolers, fans, fan controllers, power supplies, cases and other PC accessories. Operating since November 2002, is headquartered in Tokyo (Japan) and has offices in Oststeinbek (Germany) and Taipei (Taiwan).