Cooling expert Scythe is releasing first information about upcoming products which will be exhibited at this year's Computex 2011 in Taipei (Taiwan). Scythe booth is located in Nangang Hall (1F) at the booth number I325a, where visitors will be able to find new products such as Mugen 3, Kozuti, BIG Shuriken 2 and many more. One of the biggest highlights will be the brand-new 140 mm CPU Cooler (code name "Ashura"). New Ashura CPU Cooler is designed to be a high performance tower cooler, which is equipped with total of 6 copper heatpipes and Scythe original Slip Stream 140 mm fan to achieve fast heat dissipation. Specifications of the supplied fan will be announced to a later moment once the Ashura CPU Cooler leaves prototype stage and turns into final.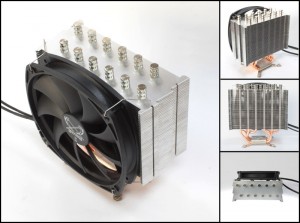 One of the further highlights is the new Himuro Mini HDD Cooler. This version of Himuro allows effective cooling as well as the reduction of vibrations and noise coming from the 2.5″ hard drives. It is entirely built from high quality aluminum and is equipped with a fin-structure for improved cooling capabilities. Inside the Himuro Mini thermal pads are attached to assure good contact to the surface of the hard drive. One of the main strong-points is the wide range compatibility to on-market HDDs, which allows users to mount HDD/SSD with a total height of 13 mm. Rubber mountings on the outside are stabilizing the Himuro Mini and reducing the vibration transfer to the pc case at the same time.
Scythe is going to introduce further new PC Accessory products such as the Kama Panel 3. This new version is combining many useful functions such as 2 channel fan controller, card reader and a mobile rack for 2.5″ HDD as well as SSD. Built-in mobile rack function is allowing users to directly mount common 2.5″ hard drives and solid state drives with a maximum height of 9.5 mm without the hassle of needing an external case or adapters. To further increase usability, a power and a reset switch are integrated into the front panel of Kama Panel 3.
If you are interested to see the new Scythe products live, please feel free to visit the booth no. I325a in the Nangang Hall (1F) and meet our staff at the booth.