27.11.2013, Oststeinbek (Germany) – Japanese manufacturer Scythe offers innovative and market leading cooling products for 10 years, and is hereby celebrating the anniversary with a special edition of the award winning high-performance Ashura CPU Cooler! Similar to the last special edition, the Ninja Copper, this spe-cial edition is produced in a very limited quantity. The Ashura Shadow CPU cooler has been optimized for better performance and the all-aluminum heatsink has been anodized black – making the CPU cooler a real eye-catcher!
One of the key criteria of a CPU Cooler is its performance, which is one of the strong-points of the Ashura Shadow. Scythe supplies the Ashura Shadow with one Glide Stream 140 mm case fan and two sets of fan clips, allowing users to mount an additional case fan for a push-pull constellation. The supplied 140 mm Glide Steam fan model supports the PWM-function, allowing a very wide range of application. When used at the maximum speed of 1.300 rpm, users can rely on the high performance. On the other hand, operation at lowest fan speed of 500 rpm, allows users to create a PC with a very low-noise environment. The noise level of the supplied Glide Stream case fan varies from almost inaudible 13 dBA to 30,7 dBA, while providing sufficient airflow from 37,37 CFM (63,49 m³/h) up to 97,18 CFM (165,10 m³/h).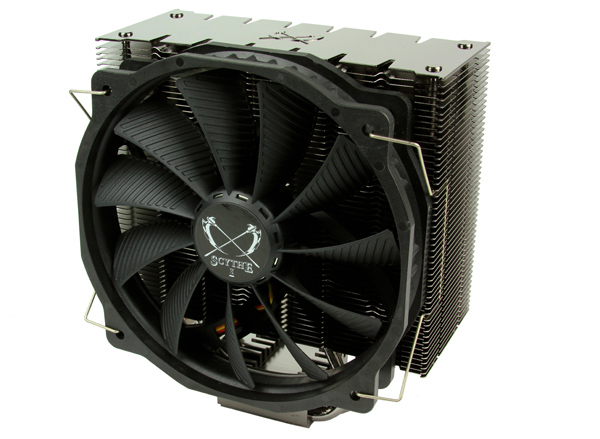 Scythe did not simply made a black CPU cooler when creating the Ashura Shadow. Several optimizations to the heatsink, heatpipes and the baseplate have been made, which lead to better heat dissipation! Similar to normal Ashura CPU cooler, the new limited edition uses a solid copper baseplate, six 6 mm copper heatpipes and aluminum fins. Another great highlight, handed down from the normal Ashura version, is the compact heatsink-design and the dimensions of 145 x 161 x 65 mm (W x H x D). The thin heatsink improves the compatibility further and supports the use of RAM modules with tall heat-spreaders or heatsinks.
Overall weight of 750 grams and high compatibility to all relevant CPU sockets remain the same with the regular version. The compatibility list includes Intel® sockets such as LGA1150, LGA775, LGA1155, LGA1156 and LGA1366 as well as AMD® sockets AM2, AM2+, AM3, AM3+, FM1 and FM2. To assure fast and convenient mounting, all required mounting clips for the screw-based mounting system, alongside one wrench and thermal grease, are supplied with the Ashura Shadow CPU Cooler.
The limited Ashura Shadow edition (model no. SCASR-1000SE) is available as of today. Suggested retail price for Ashura Shadow CPU cooler is 39,50 EUR (excl. Taxes).
**********************************************
Scythe Ashura Shadow – Product Page
Scythe Ashura Shadow – Data Sheet
Scythe Ashura Shadow – high-resolution Images
**********************************************
About Scythe
Scythe is one of the world's leading manufacturers of CPU coolers, graphic card coolers, fans, fan controllers, power supplies, cases and other PC accessories. Operating since November 2002, is headquartered in Tokyo (Japan) and has offices in Oststeinbek (Germany) and Taipei (Taiwan).