Epic Monkey is hereby announcing the premium carbon case Epic Carbon Cover for iPhone 5™ and iPhone 5S™. Epic Carbon Cover is made of high-tech carbon fiber material and offers many ad-vantages including great protection capabilities and low weight. Hence makes it the best matching accessory for latest high-class Smartphones.

Most on-market cases and covers are made from fragile plastic and come usually with a bulky and inconvenient design. In result, both the good grip and the design of the Smartphone are being com-promised and hidden behind a dull cover. Epic Monkey goes a different way and focuses on prod-ucts with extraordinary material and designs, to provide outstanding products for users with high demands. Epic Carbon Cover is made of the high-tech material carbon, which is being used for air-planes and racing cars. Hence allows the cover to be very robust, while being thin and lightweight at same time.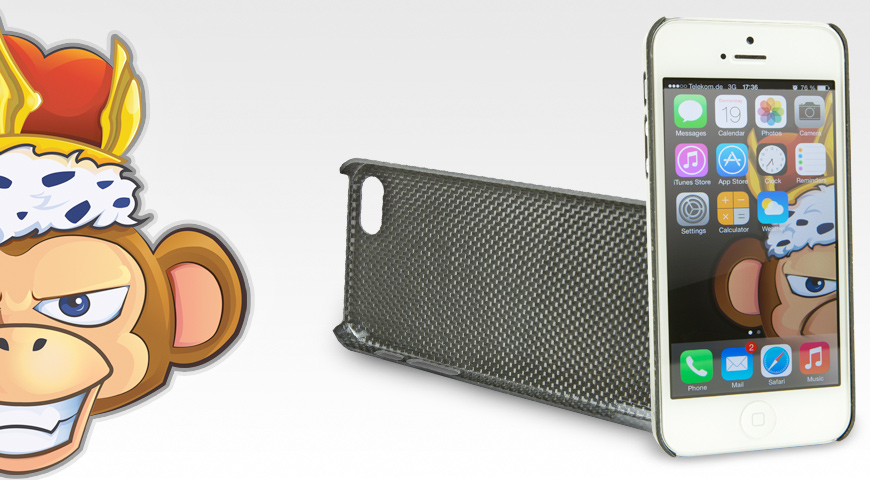 Thanks to the thickness of only 1,3 millimeter and total weight of 7 grams, Epic Carbon Cover is able to match the high-quality look and feeling of the iPhone 5™ and iPhone 5S™. Perfect grip and quality feeling is assured.
One of the strong points of the Epic Carbon Cover is the perfect fit to the Smartphone. All the im-portant connectors including the audio jack and lightning port as well as all the buttons can be reached without any hassle! Mounting process doesn't require any tools or much effort. The iPhone 5/5S just needs to be put into the shell, that's all!
New Epic Carbon Cover with the model no. EMIP5CC1 is available from Amazon and ebay for 33,50 EUR as of today.
**********************************************
Epic Carbon Cover – Product Page
Epic Carbon Cover – Buy from Amazon
Epic Carbon Cover – high-res images
**********************************************